I saw many vintage antique rare branded watch sellers on OLX from all Pakistan who sell watches locally in Pakistan. But these days, I see many Pakistani sellers are selling vintage rare antique original genuine authentic branded watches on eBay at, very high profit to international buyers around the world. a lot of these Pakistani sellers are growing rapidly on eBay. Actually, the main reason behind the scene is that eBay recently adopted Payoneer payment system for eBay sellers. So any Pakistani can easily and legitimately use Payoneer instead of PayPal because Pakistan is added in Payoneer supported countries list, that's why many Pakistani sellers joined Bay because Payoneer is the legal payment system for Pakistan and now you can open a free Payoneer account from Pakistan. and your eBay sales amount is directly credited to your Pakistani bank account or JazzCash account through Payoneer Payment system. or you can also transfer balance into Payoneer mastercard which you will get from Payoneer after account opening.
Pakistani sellers are making a lot of money by selling Vintage Watches on eBay. They are earning 10 to 20 times profit on each watch by selling it on eBay. This is the Hot Business on eBay these days and day by day it is increasing because many vintage watch sellers from Pakistan are coming to eBay. …However, you can create a free account on eBay and buy anything. Buyers can make an offer for his preferred watch listing and also contact sellers through eBay message system for bargain price and shipping charges. However, buyers have to attach your debit or credit card to an eBay account for payment. On the other hand, sellers can open and verify his/her Payoneer account and attach them to their eBay seller account for withdrawal of eBay sales amount . And for international delivery, they use courier companies or Pakistani post EMS plus or Registered mail. Also, eBay has fewer restrictions, is much faster & easier to list items and less complicated than Amazon and you can sell any type of used item on eBay on your customized delivery charges and terms like the 3 / 7 or 10 day bidding auction or BuyNow price with make an offer option,and no monthly fee for basic seller with many free listings every month.
Pakistani eBay sellers mostly sell watches from the early 1960s, 1970s, 1980s to late 1990s and they sell Japanese watch brands like Casio, Seiko, Citizen, G-Shock, Alba, Orient, Ricoh, Omax, Pulsar, Timex, Sanyo and Swiss made watches brands like Rado, Tissot, Raymond weil, Longines, Omega, Titoni, Swatch, Elgin, Enicar, Roamer, Oris, West End, Favre-Leuba, Raketa and many many more. They also sell digital watches with features like Ana-digi (dual time) watches, Game watches, Calculator watches, Melody alarm watches, Alarm chronograph watches, Solar power watches, Automatic watches, Quartz watches, Electronic watches, Manual/Hand wind watches, Sports watches and many many more. to all countries like the USA, Canada, Mexico, Brazil, All Europe Germany, France, Italy, United Kingdom, Sweden, Norway, Denmark, Switzerland, Spain, Greece, Hungary, Netherlands, Turkey, Poland, Russia, Austria, New Zealand, Australia, Japan, all Asia.
I also made a list of Pakistani watch sellers on eBay which is auto update on daily basis below is the link of list:
List of Vintage Watches sellers from Pakistan on eBay
Here i also tell you how you can sort out only Pakistani watch sellers through eBay advance search, first check the link below to see how it works:
Vintage watches sellers from Pakistan on eBay
Or alternatively you can go to the eBay site and click on the advance search option, type watches into item keyword, select Jewelry & Watches in Category and then drop down select Pakistan in (Located in) at Location Section and then click the search button. For example if you want to search for a specific brand like Casio Watches then just replace the keyword with Casio Watches.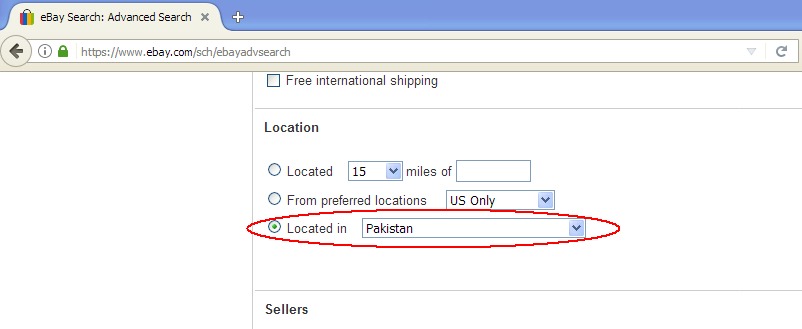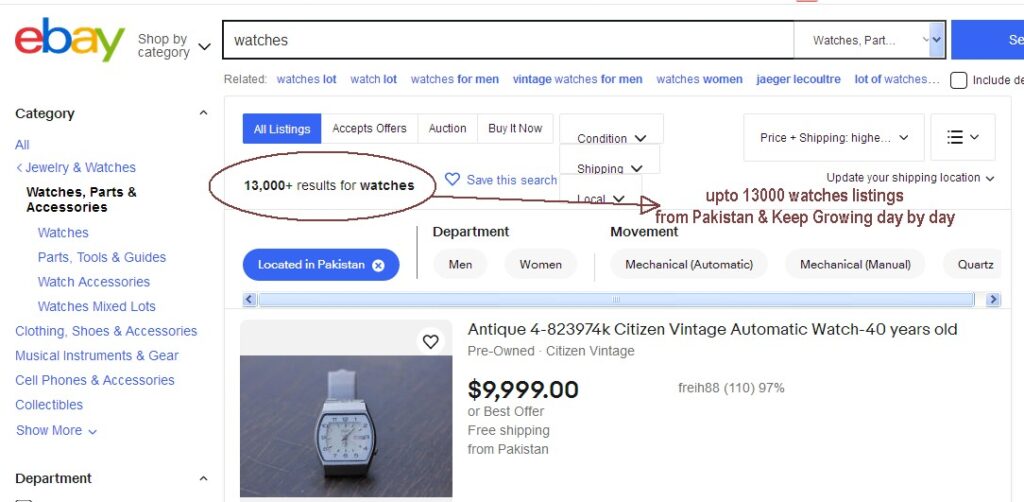 But the above link or procedure works only on eBay desktop version site, it will not work on eBay mobile version site, So in order to use eBay advanced search with country location option you have to use a desktop PC/Laptop or if you want to use it on smartphone then you must enable the desktop site option in your smartphone browser for accessing eBay Desktop version site and repeat the same procedure as i mentioned above, after that you can see sellers only from specific country like Pakistan. The above link is also sort only Pakistani sellers on eBay But only on eBay desktop version site, …….Otherwise if you use eBay mobile version website then you will Not see the Location option in eBay advanced search and also this link will show you sellers from all countries instead of only Pakistani sellers if you go through smartphone without enabling the desktop site option in browser. and if desktop site option is not in your smartphone browser then you can download VIA browser from playstore it is fast and lightweight. or check this link How to Activate Desktop Mode in any Android Phone Browser.
I hope you will like this post, Have a nice day…!